National Assembly Majority Leader Aden Duale, together with his minority counterpart, John Mbadi, issued a notice of motion seeking to abolish majority/minority positions in the Senate, stating that the two positions are unknown to the constitution and any laws of Kenya.
On Wednesday, Duale threatened to move to court to demand the scrapping off of the two positions, currently held by Senators Kipchumba Murkomenand James Orengo, while daring the Senators to proceed with their suit seeking the court's interpretation on the distinct roles of the two Houses.
"They have started the war and should be ready to face us in the interpretation of the law when we will be in court," Duale stated.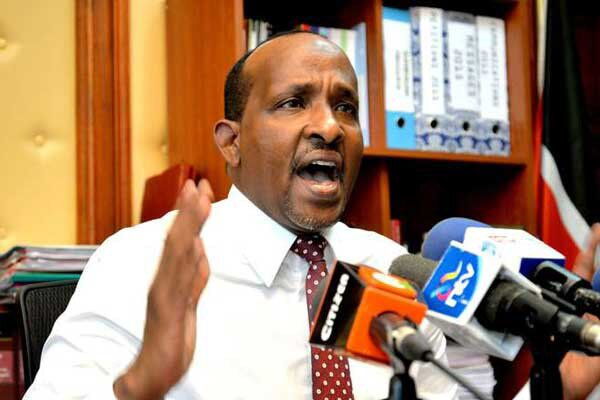 "Over the years, we have realised that the Senate believes and thinks the constitution is not clear. Every time you hear them talk, they try to insinuate that the National Assembly is undermining the responsibility and the roles of the Senate, "Suba South MP John Mbadi revealed in an interview with KTN News.
On June 20, the Senate approved a motion by majority leader Kipchumba Murkomen that seeks to institute legal proceedings to challenge the laws that have been enacted by the National Assembly without seeking concurrence from the Senate.
"This is a culmination of a continued struggle of the Senate since 2013. A decision has been made by the Senate in its own Kamukunji and to be affirmed and ratified and adopted by this house," Murkomen alluded during the Senate proceeding.
"I want to assure ourselves, including myself, that when you are defending the law, you can never be a victim," Orengo added.
The National Assembly majority leader has seemingly moved to scrap their positions as revenge.
According to a KTN News report, Duale argued that whereas article 108 (4) of the constitution exclusively accords certain order of precedents to be observed in the National Assembly, that is the speaker, the leader of the majority party, and of the minority party, the one in the Senate is unknown to the constitution and any law.
According to Duale and Mbadi, despite the provisions of article 108 of the constitution, the Senate has irregularly established the Parliamentary Service Commission to facilitate and reward the position of the Senate majority and minority leaders.
In a Senate proceeding, Orengo and Murkomen defended the decisions of the House while hitting back at the MPs.
"No one should victimise the Speaker when he will make his own decision, no one should victimise Orengo or me, or any other Senator," Murkomen stated.
"The space of the Senate in the constitution should not be taken for granted. The Senate is not a dead duck. If anyone thought we are, then the Court will clarify more on the issue," Orengo defended.